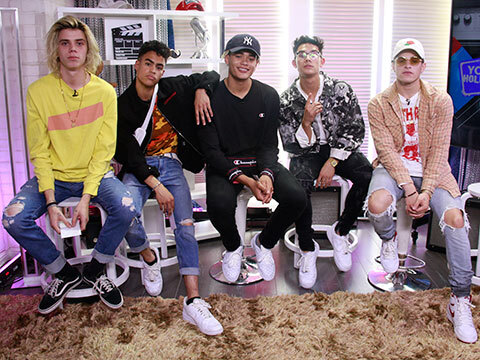 PRETTYMUCH Talk First Impressions & Simon Cowell
A few lucky fans gather in the YH Studio for a real treat when boy band PRETTYMUCH stop by for an exclusive, intimate meet-and-greet! Brandon, Edwin, Zion, Nick, and Austin sit down and tell us the story of how they were all brought together by the mastermind himself, Simon Cowell, plus they show off their matching tattoos and discuss the meaning behind their song "Would You Mind"!
Raven's Home Stars Play Who's Most Likely To?
We're hanging out in the YH Studio with the legend herself, Raven-Symoné, and her uber-talented "Raven's Home" co-star Issac Ryan Brown, whom we challenge to a few rounds of "Who's Most Likely To?"! Find out which one of them is more likely to nap on set, improvise during during, have psychic abilities IRL, and more!
Jake T. Austin Reveals His Favorite Emojis
We're excited to welcome actor Jake T. Austin back to the YH Studio, this time to scoop us on his animated film 'The Emoji Movie'! He tells us all about his character and the important messages behind the movie, plus he reveals which of his co-stars he was most anxious to meet face-to-face and names his favorite emojis to use in real life!
Cameron Boyce Gives His Best Villain Face
Actor Cameron Boyce returns to the YH Studio to fill us in on the Disney Channel movie 'Descendants 2' and discuss how his character Carlos has evolved! He also shares some behind the scenes stories from the set, plus he talks about what next steps might be in store for him and gives us his best villain face!
Mackenzie Ziegler Talks Sisterly Love with Maddie
We're chatting with Mackenzie Ziegler in the YH Studio all about sisterly love! Mackenzie reveals how she and her sister Maddie Ziegler fought constantly during "Dance Moms" but how Maddie going on tour with Sia actually brought them closer together, plus she tells us what sorts of things she and Maddie typical fight about and what fun they had performing in Australia together!